I want to say I am grateful.
My garden is coming along.
Things are quite a lot later than last year, as the winter 2013 had been incredibly mild. At the moment, the little Sun Disc daffs are just opening, as are the new tulips (Queen of the Night and Spring Green), last year's Parrot tulips and the previous year's Angeliques. A little pot of creeping phlox perched on the rusty old bike makes a welcome pink note echoing the darker pink of the Saxifrage planted last Autumn.
The Alpines are doing fine – it looks like the Edelweiss are going to come back.
I got rid of the enormous old hebe which was alive only at the surface (though it was my favourite things when we movend in, it didn't age too well) and made some space for other little things.
Annuals. I have sown white cosmos outside and in a seeding tray (which I knocked down yesterday – a colourful episode of swearing ensued). I know I haven't got enough place for a decent display of cosmos, but I just can't give them up. To me, white cosmos are the flowers of poetry, pure and simple, a sign of perfection and transcendance, yet modestly yielding under the breeze).
I have sown Ladybird poppies, because one also needs true red, and Flemish Antique poppies, because one needs sophistication.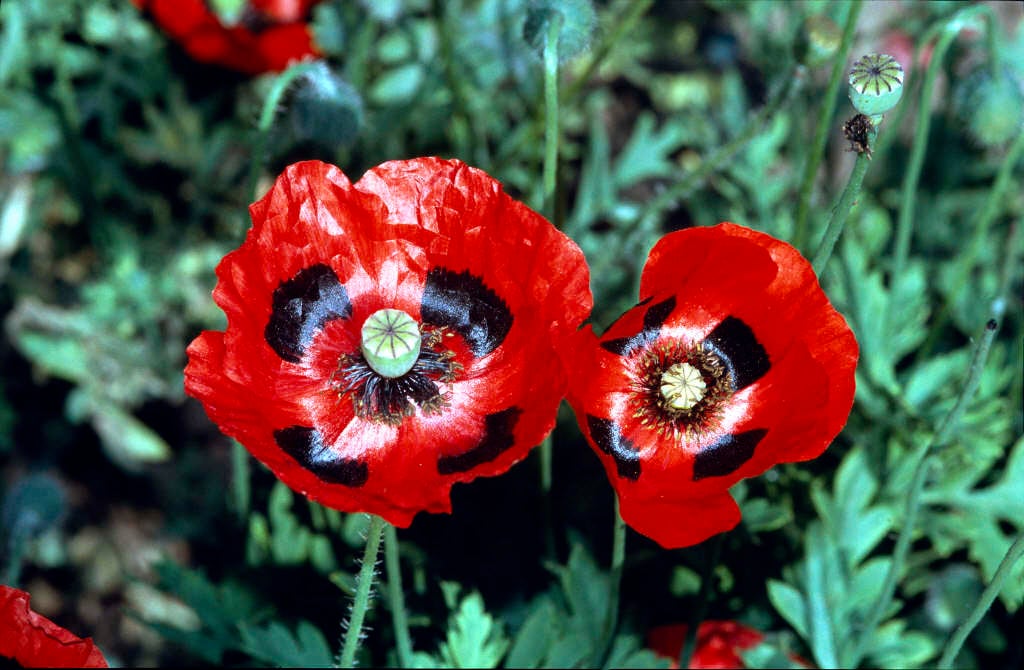 The other monstruous poppy (the oriental one) bought in Sainsbury's, which wasn't what was promised on the label, and therefore ended up uprooted and thrown away, has come back.
If a plant fights dearly for its life and its place in my garden, I will give it a chance. Those fighters remind me of the biblical stories illustrating God's mercy (I like imagining Him surprised at the insistence, the stubbornness of weak, helpless creatures to whom desire sometimes gives strength above their station) and resilience is one of the qualities I so admire in plants.
Today, I have ordered at Parker's (I know, my experience with them has been mixed but they have many plants to order and I don't have a lot of money):
– Euphorbia Characias Tasmanian Tiger to replace my Euphorbia myrsinites (not enough place for this prostrate creeping sea monster, though I like him very much). I found Tasmanian Tiger's pictures extremely striking (the following photos are from Parker's website).
– Geranium Black Beauty for the contrast offered by its dark leaves
– Fuchsia Hawkshead which I have coveted for a few years – how not to love this bush sparkling with white fairy tears ?
– Iris Sibirica Butter and Sugar.
On irises. I have had Iris Dutch Blue Magic for a few years, and it's not improving. I didn't know anything about plants when I bought it, and wasn't even aware that there were many types of irises. I have since discovered that the bearded irises are the ones I desire, and have ordered a plant two years ago ; it's going to flower for the first time.
My kind neighbours also offered me some purple bearded irises last year as they were digging theirs up in order to build a new drive, but no sign of flowers yet. Meanwhile, I have learned about Siberian irises and, like the cosmos, they seem to resonate with my heart in a silent, vibrant and deep way. Their lance-like leaves, their beautiful but modest manner (not as showy and grand as the bearded irises), the fact they grow near streams and lakes, that something wild about them, which evokes space and the song of the wind in reeds. I don't know whether they will like my Kentish garden, which might be too dry for them. Try and see. I went for the Butter and Sugar yellow because it is my son's favourite colour, although my mind pictures Siberian flags as intensely blue or purple.
I am glad I have a lot of lupins this year – finally, after some years of varying success. And delphiniums (am trying to get some really blue ones). And one of the alliums Schubertii has a bud.
And I am most excitedly waiting for the Neptune's Gold eryngium to grow and flower.
My desire for eryngiums is different from my quiet love for cosmos and Siberian irises – it is rather a fiery, possessive thirst, which in French I would describe as sanguine. I have tried with eryngiums before, in vain. This one IS going to live, or else…
And what about the paeonies ? This year, I have several buds on both of them. Finally !
Oh, and I moved the fullmoon maple. Yes, I did. Last week, as it was (and still is) preparing to leaf out. I dug it out, rather brutally, cut two enormous roots it had sent in the direction of the hated ivy, and plonked it in a pot. I did that. To my most treasured tree. I hope I don't live to regret it. Why such a careless move ? I suddenly had the urge to move the big Osakazuki maple in its spot. And I was right, I mean, moving that tree by 70 cm made a big difference to the whole bed – made it work. Now its graceful branches dance over the hellebores, the astilbe, the lupins, the alliums, I don't know, and tie everything together. Spring, bring it on.
P.S. I write about gardening, as if it really mattered… Tragedy struck in a beloved friend's life, a little boy died. My Spring flowers, and the care dispensed on them : a wordless prayer for healing, some love carried on the wind.